Rob Luke BDS
(GDC No. 60417)

Rob qualified from Wits University South Africa in 1982.  He moved to England in 1985 and bought Buckhurst House Dental Surgery in 1988.
Rob is very interested in the outdoors and would love to have a 'soft top' surgery!
Tracey Luke - Practice Manger

Tracey is married to Rob and works full time at the surgery. She joined Buckhurst House Dental Surgery in 2007; previously she worked in London as a PA and HR Manager.
Victoria Enfield
(GDC No. 6589)

- Dental Therapist / Hygienist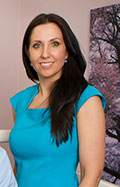 Victoria graduated from Eastman Dental Institute in 2004. She joined Buckhurst House in April 2017 as a Dental Hygienist / Therapist. Outside of working hours, Victoria enjoys spending time with her young family and enjoys keeping fit. She is addicted to Insanity and Pilates.